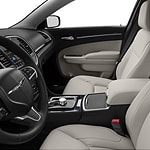 If you're looking for luxury and functionality wrapped in one, look no further than the Chrysler 300. A full-sized all-new luxury sedan, this Chrysler is designed to have your neighbors doing a double take.
Built to serve you, Chrysler allows you to pick between its standard cloth seating or ventilated leather seating in select models. If you aren't happy with the look and feel of what the 300 comes with, you can choose to upgrade your seats by selecting from over 16 different fabrics and styles to achieve the look you desire. Not too choosy about your seats? You'll love the leather-wrapped steering wheel that gives access to all your driving needs, from the audio to voice command and more.
If you're looking for a fancy luxury vehicle you'll be proud of, the Chrysler 300 is likely the perfect fit. With options to upgrade your seating and a leather encompassed system controlling steering wheel, you'll be riding in a vehicle that feels custom made for you.