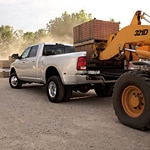 People everywhere have been singing the praises of the Ram 3500 and the exterior features that it has. From the parts that keep you safe such as the LED headlights to the features that are just nice to have such as the easy lift tailgate, the Ram 3500 is built for its owners.
This vehicle is one of the longest lasting heavy-duty trucks in America with a limited warranty of 5 years or 100,000 miles to go along with it. You can rest assured that it will continue to operate for you the way that you need it to well into the future.
People everywhere are celebrating the Ram 3500 by saying that they wouldn't want to drive anything else. They simply realize just how important this vehicle is to the landscape of the automobile industry in general. They feel that it stands out and makes even skeptics think about heavy duty trucks again.