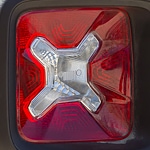 Whether you're looking for a stylish vehicle that allows you to enjoy the views of the beautiful town of Chippewa Falls or you need a rugged off-road vehicle that will handle the challenging angles along mountainous terrain, the Jeep Renegade is a popular subcompact SUV that's perfectly equipped for either scenario.
The Jeep Renegade has two different panoramic sunroof options depending on the open-air experience you're looking for. The MY SKY power removable sunroof has two panels that easily remove and stow away in the height-adjustable cargo space so you can enjoy some fresh air on the open road. You can always rely on crystal clarity when it comes to the various lamps around the vehicle, as brilliant LED lights run standard in every option. LED lights illuminate the road around you in the headlamps, taillamps, and the signature day running lamps.
Come down to see our sales team when you're ready to take the Jeep Renegade for a test drive, and you'll experience the difference for yourself.