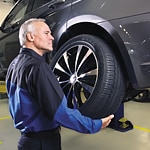 When the rubber hits the road, it might also hit an obstruction. Tires can run over sharp debris or hit potholes and curbs. Even at slow speeds, damage may wreck tires and wheels. Thankfully, Mopar protection exists. Drivers subscribing to Mopar can procure coverage for some categories of tire and wheel damage. The service could save someone from much aggravation and, of course, expenses.
If the loss falls under a covered category, drivers can procure complete repair and replacement of tires and wheels. Factory tires and wheels aren't the only parts included. Aftermarket ones count, too. Be sure your car meets the eligibility requirements first.
Mopar also offers roadside assistance. Upon suffering a flat or other problem that disables a vehicle, drivers need help. Calling for a tow in Chippewa Falls helps get them out of a tight spot.
Do you have any maintenance or service concerns? The technicians at Chilson Chrysler Dodge, LLC are available to help.